Walsertreffen - Walser meetings
Since 1962, the Walser are celebrating a great meeting every three years. Walser from all over to world come together in a Walser village. Up to 2000 men and women wearing their colourful costumes experience these meetings as highlights. Music-, singing- and local costume groups as well as bands contribute to a cheerful ambience outside and on the festive evening. A shared church service calls for prayer and reflection. A great pageant terminates the meeting.
The next 16th Walser meeting will be held in Triesenberg (Liechtenstein) in 2010.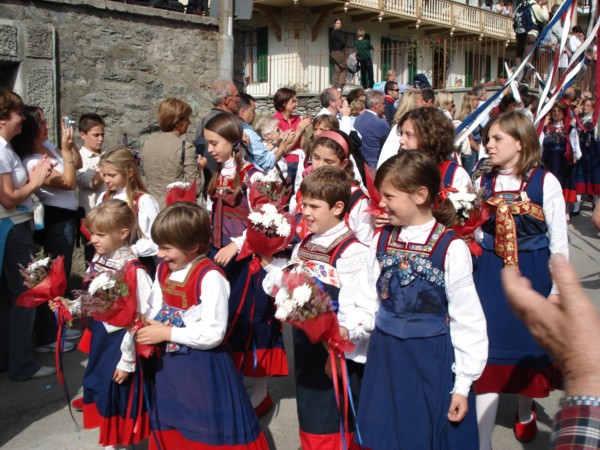 Walser meetings so far:
| | | | |
| --- | --- | --- | --- |
| 1.            |  7. - 14. 9. 1962 |               | in Saas Fee |
| 2. |  19./20. 6. 1965 |   | in Triesenberg |
| 3. |      7./8. 9. 1968 |   | in Gressoney |
| 4. |      4./5. 9. 1971 |   | in Klosters |
| 5. | 21./22. 9. 1974 |   | in Brand |
| 6. | 10./11. 9. 1977 |   | in Brig |
| 7. | 13./14. 9. 1980 |   | in Triesenberg |
| 8. | 24./25. 9. 1983 |   | in Alagna |
| 9. | 19. - 21. 9. 1986 |   | im Kleinen Walsertal |
| 10. | 2./3. 9. 1989 |   | in Davos |
| 11. | 4. - 6. 9. 1992 |   | in Saas Fee |
| 12. | 1. - 3. 9. 1995 |   | in Lech |
| 13. | 11. - 13. 9. 1998 |   | im Oberlystal, Alta Valle del Lys |
| 14. | 21. 9. – 25. 9. 2001 |   | in Brig und Naters im Wallis |
| 15. | 8. - 12. 9. 2004 |   | in Galtür |
| 16. | 21.-23.9.2007 |   | in Alagna |